Gezondheidseffecten van vis en zeevruchten: een onvolledig verhaal
Door Isabel Lu, 6 april, 2021
Op een of andere manier is vis het troetelkind geworden van gezondheids- en milieuorganisaties vanwege de vermeende gezondheidsvoordelen en de groeiende markt van "duurzaam gevangen" vis. Maar de verhalen waarmee we gevoed worden over de voordelen van vis zijn net zo troebel als onze vervuilde rivieren en oceanen.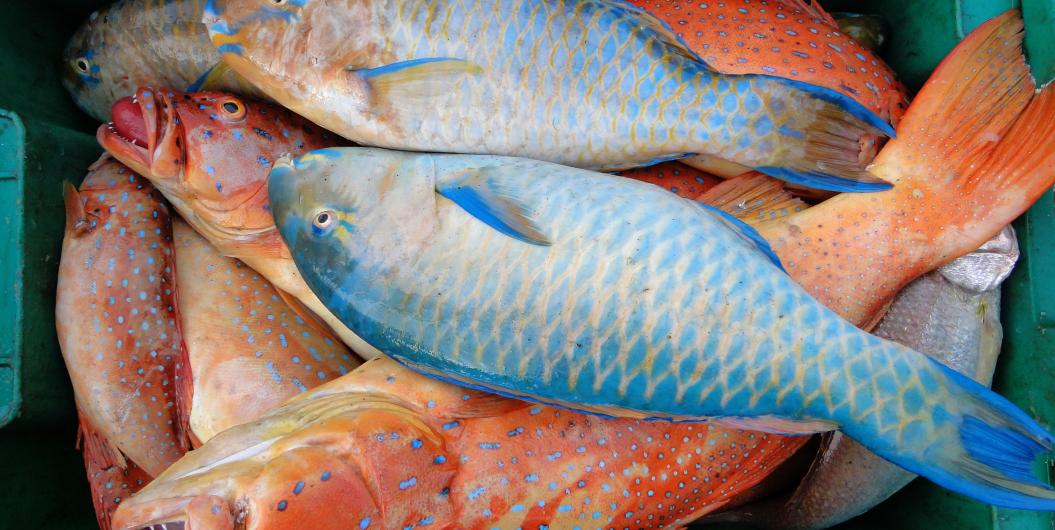 Foto Dos Winkel
https://nutritionstudies.org/the-health-impacts-of-fish-seafood-an-incomplete-story
Het verhaal over vis dat we kennen
Vis wordt aangeprezen als een basisbestanddeel van elk gezond eetpatroon door vele vooraanstaande gezondheids- en voedingsorganisaties. Het wordt aangeprezen als een gezonde eiwitbron om de kans op hart- en vaatziekten te verlagen [7-10].
Allereerst hebben vis en zeevruchten een prominente plek in het veelgeprezen Mediterrane dieet dat gelauwerd wordt om de positieve effecten op het voorkomen van hart- en vaatziekten en diabetes type 2. [11,12] Vis wordt in het bijzonder geprezen om het hoge aandeel meervoudig onverzadigde vetzuren, vooral omega 3, bekend om het ontstekingsremmende effect in ons lichaam en het verkleinen van het risico op hart- en vaatziekten. [13,14] Sommige noten en zaden bevatten ook omega 3. Maar omega 3 van plantaardige oorsprong is anders van samenstelling en de voorkeur wordt gegeven aan vis vanwege de zorg over de lage omzetting van plantaardig omega 3 in het menselijk lichaam. [15]
De gaten in dit verhaal
Een dieet rijk aan zaden, noten en bladgroenten is echter ook in staat ons hart te beschermen tegen ziekten. [20] Onderbelicht is bovendien de choline in vis en de schadelijke effecten ervan op hart- en vaatziekten. Choline is een essentiële voedingsstof voor veel functies in ons lichaam, maar een overmatige hoeveelheid is problematisch. [21] Choline komt in grote hoeveelheden voor in rood vlees, eieren en vis [22]. Het wordt omgezet in ons lichaam naar het stofje TMAO [24], dat in verband wordt gebracht met verhoogd risico op hart- en vaatziekten [23,25]. Dus als vis een stof bevat die zowel beschermt tegen als zorgt voor verhoging van het risico op hart- en vaatziekten, is het dan wel terecht het troetelkind van een gezond voedingspatroon?
Verontreinigde vis
Door verontreinigingen in zee neemt de zorg over ophoping van zware metalen in zeevoedsel en daarmee de vergiftiging van consumenten toe. Zware metalen, zoals kwik, hebben giftige effecten op onder meer het spijsverteringsstelsel, het immuunsysteem en het zenuwstelsel [26].
Het is een wankele basis om ziektepreventie aan één specifiek voedselproduct te verbinden in plaats van het geheel aan eet- en leefpatronen onder de loep te nemen. Ander voedsel zoals fruit, groente, peulvruchten, noten en zaden zijn tevens bevorderlijk voor de gezondheid. [30-32] In feite, is de verwesterlijking van welk dieet dan ook de echte oorzaak van de toename van chronische ziekten. [36]
Superfood of een gezonder eet- en leefpatroon?
Vis is een voorbeeld van één enkel product dat tot superfood verheven is. De focus op superfood kan misleidend zijn en zelfs gevaarlijk. Maar het is zoveel makkelijker om mensen te overtuigen van het eten van een enkel product dan hun hele manier van eten te veranderen. Dus, de volgende keer dat je overweegt een product aan je standaard voedingspatroon toe te voegen vanwege één of twee voedingsstoffen hierin, probeer eens uit te zoomen en het hele plaatje te bekijken. Zou je niet meer moeten nadenken over de gezondheidseffecten van je gehele voedingspatroon?
Van de redactie: Behalve zware metalen zoals kwik, nemen vissen vrijwel alle gifstoffen op die zich in het zeewater bevinden, waaronder de kankerverwekkende dioxines en pcb´s. Verder is omega 3 feitelijk altijd plantaardig, ook al haalt men het uit vis. Vissen kunnen dit belangrijke meervoudig onverzadigde vetzuur immers zelf niet maken, maar nemen het onbewust op tijdens het eten. Dan komt er ook plantaardig plankton mee naar binnen en deze eencellige algen bevatten in veel gevallen deze omega 3 vetzuren (EPA en DHA) die in het vetweefsel van de vis worden opgeslagen. Inmiddels zijn er al zo´n 30 bedrijven die deze plantaardige algen op het land en onder zuivere omstandigheden kweken. Men kan dus wat dat betreft veel beter als aanvulling op een gezond dieet deze algencapsules nemen. Zie bijvoorbeeld https://testa-omega3.com/nl/ .
Zie voor vele studies over verontreiniging in vis en de gevaren van het eten van vis, De Huilende Zee van Dos Winkel e.a. – in de webshop van Sea First: https://www.seafirst.nl/webshop/boeken/de-huilende-zee
Samenvatting door Anja Dijkstra, Sea First vrijwilliger
Referenties
Micha R, Michas G, Mozaffarian D. Unprocessed red and processed meats and risk of coronary artery disease and type 2 diabetes–an updated review of the evidence. Curr Atheroscler Rep. 2012;14(6):515-524. doi:10.1007/s11883-012-0282-8
Rodriguez C, McCullough ML, Mondul AM, et al. Meat consumption among Black and White men and risk of prostate cancer in the Cancer Prevention Study II Nutrition Cohort. Cancer Epidemiol Biomarkers Prev. 2006;15(2):211-216. doi:10.1158/1055-9965.EPI-05-0614
World Health Organization. Q&A on the carcinogenicity of the consumption of red meat and processed meat. World Health Organization. https://www.who.int/news-room/q-a-detail/q-a-on-the-carcinogenicity-of-the-consumption-of-red-meat-and-processed-meat. Published October 26, 2015. Accessed October 3, 2020.
Saenz RA, Hethcote HW, Gray GC. Confined animal feeding operations as amplifiers of influenza.Vector Borne Zoonotic Dis. 2006;6(4):338-346. doi:10.1089/vbz.2006.6.338
Meng G, Human Rights Watch (Organization). Cultivating Fear: The Vulnerability of Immigrant Farmworkers in the US to Sexual Violence and Sexual Harassment. New York, N.Y: Human Rights Watch.
Hribar C. Understanding Concentrated Animal Feeding Operations and Their Impact on Communities. National Association of Local Boards of Health; 2010. http://www.nalboh.org. Accessed September 26, 2020.
American Heart Association. Fish and Omega-3 Fatty Acids. American Heart Association.https://www.heart.org/en/healthy-living/healthy-eating/eat-smart/fats/fish-and-omega-3-fatty-acids. Published March 23, 201 Accessed March 20, 2021.
Academy of Nutrition and Dietetics. 8 Defining Characteristics of the Mediterranean Diet. eat right PRO. https://www.eatrightpro.org/news-center/nutrition-trends/health-promotion/8-defining-characteristics-of-the-mediterranean-diet. Published February 10, 2016. Accessed March 20, 2021.
Make it Mediterranean. https://www.eatright.org/food/planning-and-prep/cooking-tips-and-trends/make-it-mediterranean. Accessed March 20, 2021.
Harvard T.H. Chan School of Public Health. Healthy Eating Plate . Harvard T.H. Chan School of Public Health. https://www.hsph.harvard.edu/nutritionsource/healthy-eating-plate/. Published 2011. Accessed March 20, 2021.
Estruch R, Ros E, Salas-Salvadó J, et al. Primary Prevention of Cardiovascular Disease with a Mediterranean Diet Supplemented with Extra-Virgin Olive Oil or Nuts. N Engl J Med. 2018;378(25):e34. doi:10.1056/NEJMoa1800389
Salas-Salvadó J, Bulló M, Babio N, et al. Reduction in the incidence of type 2 diabetes with the Mediterranean diet: results of the PREDIMED-Reus nutrition intervention randomized trial. Diabetes Care. 2011;34(1):14-19. doi:10.2337/dc10-1288
Hu FB, Bronner L, Willett WC, et al. Fish and omega-3 fatty acid intake and risk of coronary heart disease in women. JAMA. 2002;287(14):1815-1821. doi:10.1001/jama.287.14.1815
Calder PC. n-3 Fatty acids and cardiovascular disease: evidence explained and mechanisms explored. Clin Sci. 2004;107(1):1-11. doi:10.1042/CS20040119
Baker EJ, Miles EA, Burdge GC, Yaqoob P, Calder PC. Metabolism and functional effects of plant-derived omega-3 fatty acids in humans. Prog Lipid Res. 2016;64:30-56. doi:10.1016/j.plipres.2016.07.002
Goyens PLL, Mensink RP. Effects of alpha-linolenic acid versus those of EPA/DHA on cardiovascular risk markers in healthy elderly subjects. Eur J Clin Nutr. 2006;60(8):978-984. doi:10.1038/sj.ejcn.1602408
Goyens PLL, Spilker ME, Zock PL, Katan MB, Mensink RP. Conversion of alpha-linolenic acid in humans is influenced by the absolute amounts of alpha-linolenic acid and linoleic acid in the diet and not by their ratio. Am J Clin Nutr. 2006;84(1):44-53. doi:10.1093/ajcn/84.1.44
Gibson RA, Muhlhausler B, Makrides M. Conversion of linoleic acid and alpha-linolenic acid to long-chain polyunsaturated fatty acids (LCPUFAs), with a focus on pregnancy, lactation, and the first 2 years of life. Matern Child Nutr. 2011;7 Suppl 2:17-26. doi:10.1111/j.1740-8709.2011.00299.x
Egert S, Kannenberg F, Somoza V, Erbersdobler HF, Wahrburg U. Dietary alpha-linolenic acid, EPA, and DHA have differential effects on LDL fatty acid composition but similar effects on serum lipid profiles in normolipidemic humans. J Nutr. 2009;139(5):861-868. doi:10.3945/jn.108.103861
Blasbalg TL, Hibbeln JR, Ramsden CE, Majchrzak SF, Rawlings RR. Changes in consumption of omega-3 and omega-6 fatty acids in the United States during the 20th century. Am J Clin Nutr. 2011;93(5):950-962. doi:10.3945/ajcn.110.006643
Cleveland Clinic. Plant Sources of Omega-3s. Cleveland Clinic. https://my.clevelandclinic.org/health/articles/17651-plant-sources-of-omega-3s. Published May 24, 2019. Accessed March 21, 20
Hollenbeck CB. An introduction to the nutrition and metabolism of choline. Nerv Syst Agents Med Chem. 2012;12(2):100-113. doi:10.2174/187152412800792689
Ufnal M, Zadlo A, Ostaszewski R. TMAO: A small molecule of great expectations. Nutrition. 2015;31(11-12):1317-13 doi:10.1016/j.nut.2015.05.006
Tang WHW, Wang Z, Levison BS, et al. Intestinal microbial metabolism of phosphatidylcholine and cardiovascular risk. N Engl J Med. 2013;368(17):1575-1584. doi:10.1056/NEJMoa1109400
Wang Z, Tang WHW, Buffa JA, et al. Prognostic value of choline and betaine depends on intestinal microbiota-generated metabolite trimethylamine-N-oxide. Eur Heart J. 2014;35(14):904-910. doi:10.1093/eurheartj/ehu002
WHO. Mercury and health. World Health Organization. https://www.who.int/news-room/fact-sheets/detail/mercury-and-health Published March 31, 2017. Accessed March 21, 2021.
Lim S, Ha M, Hwang S-S, Son M, Kwon H-J. Disparities in children's blood lead and mercury levels according to community and individual socioeconomic positions. Int J Environ Res Public Health. . 2015;12(6):6232-6248. doi:10.3390/ijerph120606232
Ferreira da Silva S, de Oliveira Lima M. Mercury in fish marketed in the Amazon Triple Frontier and Health Risk Assessment. Chemosphere. 2020;248:125989. doi:10.1016/j.chemosphere.2020.125989
Dietary Guidelines for Americans, 2020-2025. 9th ed. U.S. Department of Agriculture and U.S. Department of Health and Human Services; 2020.
Aune D, Giovannucci E, Boffetta P, et al. Fruit and vegetable intake and the risk of cardiovascular disease, total cancer, and all-cause mortality-a systematic review and dose-response meta-analysis of prospective studies. Int J Epidemiol. 2017;46(3):1029-1056. doi:10.1093/ije/dyw319
Miller V, Mente A, Dehghan M, et al. Fruit, vegetable, and legume intake, and cardiovascular disease and deaths in 18 countries (PURE): a prospective cohort study. Lancet. 2017;390(10107):2037-2049. doi:10.1016/S0140-6736(17)32253-5
Afshin A, Micha R, Khatibzadeh S, Mozaffarian D. Consumption of nuts and legumes and risk of incident ischemic heart disease, stroke, and diabetes: a systematic review and meta-analysis. Am J Clin Nutr. 2014;100(1):278-288. doi:10.3945/ajcn.113.076901
Willcox DC, Scapagnini G, Willcox BJ. Healthy aging diets other than the Mediterranean: a focus on the Okinawan diet. Mech Ageing Dev. 2014;136-137:148-162. doi:10.1016/j.mad.2014.01.002
Willcox DC, Willcox BJ, Todoriki H, Suzuki M. The Okinawan diet: health implications of a low-calorie, nutrient-dense, antioxidant-rich dietary pattern low in glycemic load. J Am Coll Nutr. 2009;28 Suppl:500S-516S.
Kagawa Y. Impact of westernization on the nutrition of Japanese: Changes in physique, cancer, longevity and centenarians. Prev Med. 1978;7(2):205-217. doi:10.1016/0091-7435(78)90246-3
Kopp W. How western diet and lifestyle drive the pandemic of obesity and civilization diseases. Diabetes Metab Syndr Obes. 2019;12:2221-22 doi:10.2147/DMSO.S216791
Gerelateerd:
Tags: DHAFishMediterranean DietNutrition ResearchOmega 3